2016-11-27
Change of plans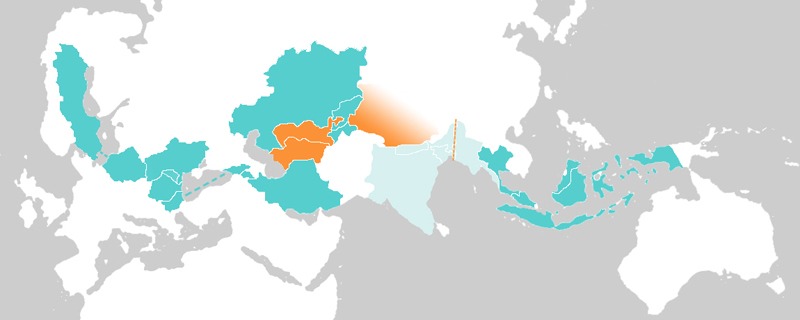 Two thirds of the way to South East Asia, then closed border politics wins... It is a pity to have to give up, and that we won't be able to travel the route as we planned. But it also leaves us with a lot of new opportunities!
It is now clear to us that our route forward is not possible. China's new visa rules are one of the administrative barriers. The rules were changed the week before we could apply in Sweden. As they did not have any experience with the new rules if you could not provide sufficient documents, like old passports and very detailed travel information, (which we couldn't) we were hoping that somewhere along the route it would be possible to apply again. Now we read on forums that no one have been getting a Chinese visa in Central Asia since the rules were changed.
Unfortunately we didn't manage to get the Turkmenistan visa in time. So we went straight from Iran to Tajikistan where they had an exemplarily simple e-visa application process. Further on, the border between Tibet and Nepal, which was supposed to open this summer, have been flushed away after heavy monsoon rains. And as that wasn't enough the border between India and Burma have been closed recently. Going through Afghanistan and Pakistan was excluded from start because of safety reasons, and there has also been unrest and attacks in some of the countries we would have passed on our original route.
Consequently we will have to give up the plan of going all the way to South East Asia by train. Nevertheless we are happy to have come about two thirds of the original route. Many of the countries we were most curious about we have already visited, and our new plan also involves a visit to Kazakhstan! From there we will head straight to Malaysia and spend Christmas and New years on Borneo.
Sadly we end up going by airplane and we will have to do the second best - to compensate for our flights. We found a company Trine that offered a good way to do so. Usually our carbon footprint is about 70-80 % lower than the Swedish average on 10-13 ton CO2e/person. This year we will reach the Swedish average or slightly above. By investing in renewable energy in developing countries we can help speed up the sustainable transition. We invested in solar equally to a CO2 reduction by 38 ton, which will by far cover our flights.
Now we only need to figure out what to do this spring... there are infinite possibilities ;)
Back to country >>
Comments

Why a Honeyyear?
The honeyyear is part of our ambition to live a more sustainable life. We want to explore the world, enjoy the amazing things in life and grow as human beings - all in a sustainable way. Travelling the old silk road by train will be a great adventure to start with! Read more here >>

Design: Johanna Lakso | Updated: 2017-07-30 in Stenungsund