2017-01-16
How to pack for around the world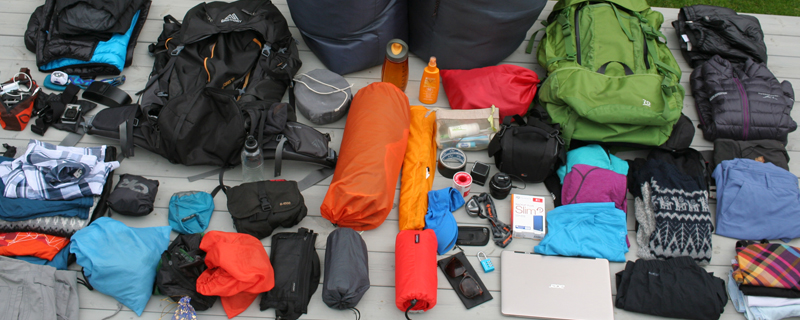 What to bring and not to bring when you go travelling for many months are sometimes tricky. After five months of travelling having experienced everything from plus 35 to minus 15 degrees, sea level and high mountains, wildlife and big cities we will do an evaluation that might be handy to read if you are also planning a long journey.
Before we left we did some thorough research and reconsideration about the things we brought. Our experience from previous trips, together about 70 countries, gave us some good guidance. We focused a lot on lightweight gear and used a kitchen scale to weigh everything we considered. We also discarded a lot of things last minute ending up with a total weight of 14 kg each - and equipment to face almost anything :) Here we will go through everything we brought and reflect on whether it was a good choice or not. To make it readable we have divided it into sections, but I'll warn you already that it's gonna be long...
Basics
This is the basic things we think is needed for a long travel to different climates:
Warm weather gear
Trekking pants - lightweight, fast drying, with pockets, can be zipped off to shorts
2 T-shirts or tops - that you like, you will use them a lot!
Light shirt - with long sleeves, good for sun protection
Underwear - five to seven pairs and two bras
Sandals - better than flip flops when you walk much
Swimwear
Sunglasses
Sunblock
Rainy weather gear
Rain jacket - we brought shelter jackets but would have prefered lightweight rain jackets
Rain pants - lightweight
Rain cover - for the bag
Cold weather gear
Wool underwear - long sleeved pants and shirt
Warm sweater - preferably wool since it's warm even if wet
Wool socks - 2 or 3 pairs
Down jacket - lightweight, with pack bag
Trekking shoes - lightweight, rain proof, Goretex
Wool soles - to insulate the shoes when really cold
(We bought hat and gloves when it got cold)
Toilet accessories
Toilet paper - a lot of toilets come without paper
Toothbrush
Toothpaste
Hair brush/comb
Hair tie and hairpins
Nail cutter
Pincette
Lip balsam
Schampo
Soap
Deo
Medical bag
Painkillers - Paracetamol, Ibuprofen and Diklofenak
Stomach pills - Imodium and Novaluzid
Antibiotics - Ciprofloxacin and Doxyferm
Malaria pills - Malarone
Motion sickness pills
Healing salve
Band aid and stripes
Blister tape
Bandage
Electric equipment
Camera - with charger
Mobile phone - with charger, unlocked to use local sim cards
Internet banking equipment
Outlet for multiple charging - one of the best things!
Multi-adapter - for charging in different countries
Travelling
Passports - bring one extra if it's allowed
Traveling documents - insurance papers and things you need to apply for visas
Credit cards - bring extra in case you lose one
Euro or US dollar - always handy if you run out of local money
Earplugs
Sleeping mask
Hand disinfectant
Coloured pack bags
Day pack
Headset
Pencil
Notebook
Padlock
Independent traveller
To be able to spend a few nights on your own out in the nature we also brought:
Camping
Tent - lightweight (2 kg), for two people
Sleeping bags - superlight, three seasons to minus 2 degrees
Inflatable sleeping mattresses
Superlight reflective mattress - to be able to sit down outside
Down pants - to use with down jacket or under rain pants
Down slippers - only Johanna brought them
Small dry bag - for valuables
Small gas stove - and if you're not flying bring gas
Cooking pan - we only brought one
Salt and pepper - we should have brought more spices
Vegetable oil - small bottle for cooking or massage
Lighter and matches
Knife
A cup each
A spork each
Light 10 m rope
Head torch
Compass
Reparing/fixing
Sewing kit - useful when mice chew on you things ;)
Gaffer tape - a quick fix until you can make a better repair
Liquesol - to mend the tent, shoes, jackets etc.
Washing powder
Hairdresser scissors
Extras
Other things we brought on this long trip:
Dices - for entertaining games
Electric equipment:
Computer - with charger, even though there is WiFi everywhere and your phone is a computer it's nice to have a real one when writing, sorting photos or doing other work.
External hard drive - to store photos and share big things with fellow travellers.
Extra lens - to the camera
GoPro - with equipment, to photo under water and on adventures
SD/CF card reader - if needed
Bluetooth speaker - small, great for hanging out outside or when you want a movie night
SIM-card adapter - useful when changing between different SIM cards
Diving computer
Extra mobile phone
So that was everything we brought with us from home adding up to 14 kg each. We have bought some stuff along the way to adjust to the different situations, like a scarf in Iran, gloves and hat for the Pamirs, and a few new clothes every now and then. We also sent home our warmest things after leaving Kazakhstan so now our bags only weight 12 kg each, but with some new snorkeling equipment I guess we are back on 14 :)
If we were to repack there are some things we would have changed. First of all we found out that in Germany (and also in Sweden) you can have an extra passport, if that is possible in your country it would be very convenient when you are applying for different visas. In some countries you need to leave the passport at the embassy while at the same time you need it with you, and for some countries you will have to send the passport to your home country to be able to get a visa. And it is always very uncomfortable while travelling to be without your passport for a long time. So having one extra would have been very handy.
We would also have brought a big dry bag, our GoPRO stick, a small cutting board for the camping and some more spices, because if you buy spices on the road you always have to carry around way more than you need. Once in a while you want to go out for a nice meal, so bringing a nice and light shirt or dress for that purpose. Finally we would have changed our shelter jackets for lightweight rain jacket, at the moment we sent back our shelter jackets and are adding a rain poncho which will work in warmer countries.
Other than that we are really happy with what we brought with us on this trip :)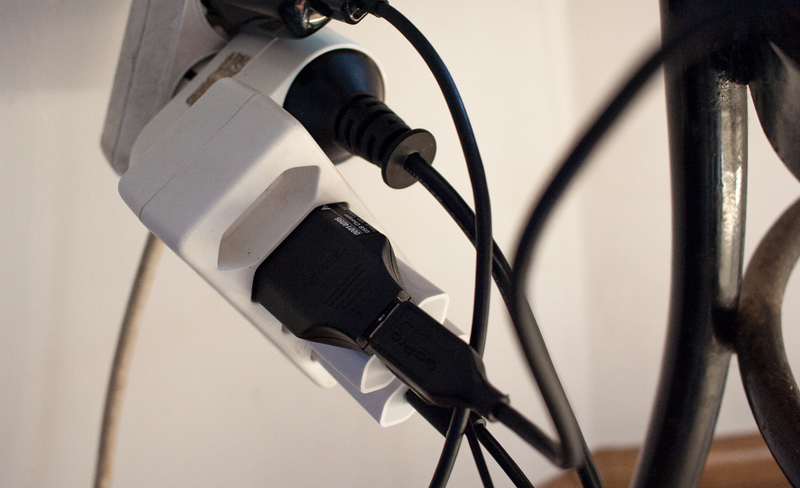 Extra: Our top 5 favorite items!
Multiple outlets - if we find one working outlet we can build an outlet with enough room for charging all our electrical equipment (one computer, two phones and two cameras) at the same time. This have been extremely useful at hostels and train stations.
Many credit cards
- we brought four credit cards which turned out necessary since Johanna lost her two and it took months before the bank managed to give her new ones. Meanwhile we blocked one of our other leaving us with just one card left.
Trekking pants - Linus loves his lightweight, fast drying, zip off pants with plenty of pockets, which is great since these are the only pair of trousers/shorts he brought. Just a bit inconvenient when we need to do laundry ;)
Rope - very convenient for a lot of purposes like hanging up food in a tree, making a laundry line, make a sun shelter on the beach, repairing or securing something, etc.
Game of dices - so fun to have a game to play with new friends and also one where you don't need to communicate a lot if you have trouble understanding each other's language. We have had many laughs playing a game of dice!

Back to blogs >>
Comments

Why a Honeyyear?
The honeyyear is part of our ambition to live a more sustainable life. We want to explore the world, enjoy the amazing things in life and grow as human beings - all in a sustainable way. Travelling the old silk road by train will be a great adventure to start with! Read more here >>

Design: Johanna Lakso | Updated: 2017-07-30 in Stenungsund