2017-02-17
Sailing in Thailand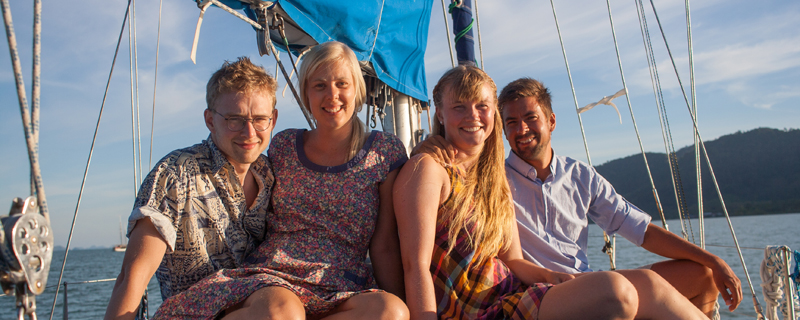 Do you want to get away from crowded beaches and find places normally out of your reach or even sight? Travelling by sailing boat is a really awesome way to discover Thailand, and is one of our top means of transportation so far on this Honeyyear.
Both of us arrived in Thailand for the second time. And even though much is familiar there has also been big changes since we last left almost a decade ago. The level of tourism have stepped up making it easy to travel but also more expensive. You will have to look out for tourists deals, which are not always to your favor ;) The coastal towns has also been built up again since Johanna left Thailand in devastation after the big tsunami 2004. Now the towns are lively and hectic full off tuk tuks, mopeds and tourists again.
The reason for returning to Thailand was an offer too good to resist. A Swedish friend of Johanna contacted us and said they were renting a big sailing boat for a month, and that we could join in for a week. The thought of sailing in turquoise water between small idyllic islands hiding beautiful fish and corals just under the surface made us accept the offer straight away.
And woaw! The sailing did not disappoint us :) It was just as amazing as we thought it would be! Sailing is a perfect way of traveling, close to nature, moving wherever the wind allows you. We also found some good reefs to snorkel and free dive on. Since a lot of Thailand's reefs close to the shore have been destroyed or died, the sailing boat made us reach the ones still full of life. Ellen and Joel also taught us about sailing on the big blue (thanks a lot!) and Linus started dreaming about sailing around world again (which was one of our other options for this honeyyear). So you should not be too surprised if you find out we've bought a sailing boat ;)
Album of Thailand:
Thailand's fast expanding tourism also have backsides. This winter we read articles about how local people lost the right to their land after the tsunami. Now brand new hotels are built upon the graveyard of their ancestors and they are not able to use the beaches to fish as they did before. It's sad to see how greed can out rule people. A couple of days ago the EU Parliament voted yes to CETA (In English). A trade agreement with Canada that contains a new mechanism (ISDS) that allows business to sue democratic institutions if they make new regulations, for example to protect humans and environment, that are affecting their profit. In EU we are obviously willingly letting greed out rule our votes. (Even though it now has to pass all the member states).
As we are travelling you feel somewhat distant to all the things happening in the world politics. Some might have that feeling even back home being caught up in the "hamster wheel". But the road we're walking down now feels dangerous for humanity. Nationalistic parties rising, fake news are spreading, obnoxious leaders gain power, legislation undermining democracy and human rights and on top a global climate crisis.
But maybe this is the perfect time to get people organised again, to stand up for our rights and our love for humanity. Let's implement UN's new Sustainable Development Goals and make the world great!... Are you in?
Back to country >>
Comments

Why a Honeyyear?
The honeyyear is part of our ambition to live a more sustainable life. We want to explore the world, enjoy the amazing things in life and grow as human beings - all in a sustainable way. Travelling the old silk road by train will be a great adventure to start with! Read more here >>

Design: Johanna Lakso | Updated: 2017-07-30 in Stenungsund