2017-03-11
Welcome to paradise!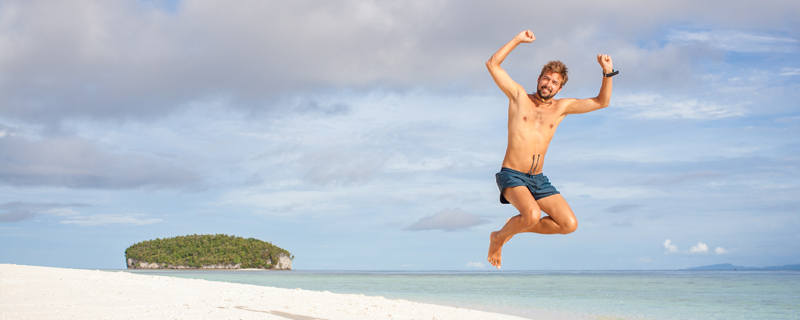 Now we have reached the turning point of our journey - the tropical islands of Papua and more specific: Raja Ampat. It's been two amazing weeks with many under water surprises!
Arriving in Indonesia we could make use of our language skills from Borneo since the Indonesian language, Bahasa, is very similar to Malay. We stayed a couple of days in the capital to make some practical arrangements and get a vaccination. But you better be careful, the traffic in Jakarta was among the worst we have ever encountered! While we were in Jakarta we met up with a cool girl Johanna met on Global Power Shift in Istanbul 2013. Thanks Cinthya for inviting us to the local 350.org meeting and showing us some great Indonesian food :D
When the vaccination was done we headed off for the ultimate goal of our trip - Raja Ampat! A group of tropical islands outside of Papua in the far east of Indonesia. The place holds the record of most species spotted in a single dive, 374 species. This is a really amazing place, you can relax in your small palm-leaf-bungalow and snorkel or dive on beautiful coral reefs. In twelve days we have seen soft corals, hard corals, gigant clams, boxfish, batfish, soldierfish, angelfish, triggerfish, lionfish, goatfish, sweetlip, clownfish, parrotfish, butterflyfish, barracuda, trevally, fusiliers, grouper, mackerel, tuna, needlefish, shrimpfish, bannerfish, snake-eel, moray-eel, crabs, squid, turtles, pygmy seahorse, stingray, devil's ray, wobbegong shark, gray reefshark, black-tip reefshark, white-tip reefshark, reef mantas and oceanic mantas! See a lot of them in our video bellow :)
You can't stop thinking that this must be the paradise! Or at least very close to paradise. The views both under and over water is stunning. The nights are humid and warm (making our things mould) and the days mainly sunny and hot. You can swim to a reef from the beach or go on a boat trip to one of the other dive spots. The fellow travellers have been great and the rice (served at least two times per day along with chili sause) gives you the energy needed. The only thing reminding us of the world outside is the occasional internet connection and the plastic floating around everywhere in the oceans.
Unfortunately 90% of the world's coral reefs risk dying if we don't halt the changing climate. Beautiful places like this and other small islands all around Oceania is threatened of rising sea levels, bleached corals and mass tourism. Most of the world's population need to fly long distances to get to places like this since they don't have the time to travel by land and boat, but there is also the risk of immediate destruction of untouched corals from tourists. One example from the two weeks we were in Raja Ampat was when a large sea cruiser with hundreds of tourists got stuck on a beautiful reef just outside where we stayed. So incredibly stupid!
Album of Indonesia:
Back to country >>
Comments

Why a Honeyyear?
The honeyyear is part of our ambition to live a more sustainable life. We want to explore the world, enjoy the amazing things in life and grow as human beings - all in a sustainable way. Travelling the old silk road by train will be a great adventure to start with! Read more here >>

Design: Johanna Lakso | Updated: 2017-07-30 in Stenungsund