2017-01-31
Borneo's biodiversity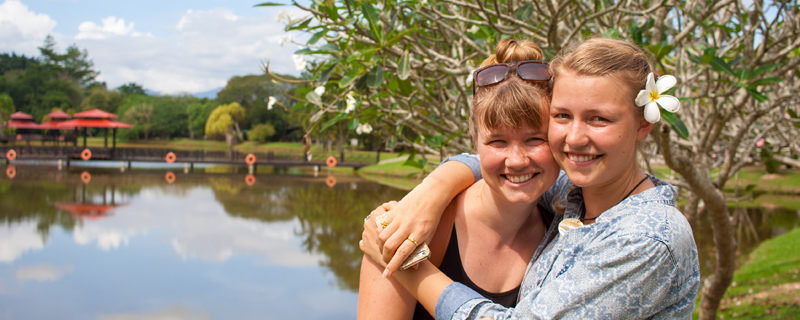 Today we are leaving beautiful Borneo behind. A place suitable both for peaceful relaxing and jungle adventures. Travelling Borneo also makes you reflect on world consumption.
After being on Borneo for one and a half month we have got the local routine quite well. In the morning we head to one of the local restaurants for some Mee Sup (noodle soup) and Kit Chai Ping (sweet lime tea with ice). For lunch we will have some Nasi Goreng (fried rice) and fruit juice. On Sundays there is a big market on Gaya Street in Kota Kinabalu (or KK as everyone call it here). It have been really great to stay at the same place for a longer time after a lot of travel, unpacking the backpacks and getting to know the local shops, streets and restaurants.
But we have not only been relaxing, hanging out at the pool or at the beach. No we have spent some weeks exploring the other parts of Borneo as well. As soon as Johanna's sister arrived we headed for the Kinabatangan River to do boat safaris in hope of seeing some wild animals. We were quite lucky to see both crocodiles, five different kinds of monkeys along with some really cool birds. We missed the local pygmy elephants but saw one wild orangutan high up in a tree. Since we wanted to see more orangutans we decided to visit an orangutan sanctuary, where orphan or injured orangutans get rehabilitated to get back out in the wild. These animals are completely adorable and so like human kids when they rather keep playing than go with their caretaker ;)
It is very sad though that there are so few of our close relative left, their habitat is rapidly being destroyed by oil palm plantations, lodging and deforestation. Even though Borneo is one of the world's most biodiverse places, it's also an ongoing environmental disaster (read more). To get to the small pockets of preserved rainforest along the Kinabatangan river you have to drive for hours and hours through endless forests of lifeless oil palm plantations, as you can see on Google maps or in the photo below. Indonesia is also planning to double the export of palm oil to 2020 compared with 2009. So what to do? Well, because of the low price palm oil is used in a lot of products like chips, cookies, food and make-up. So try to avoid palm oil in the shop or at least buy certified palm oil.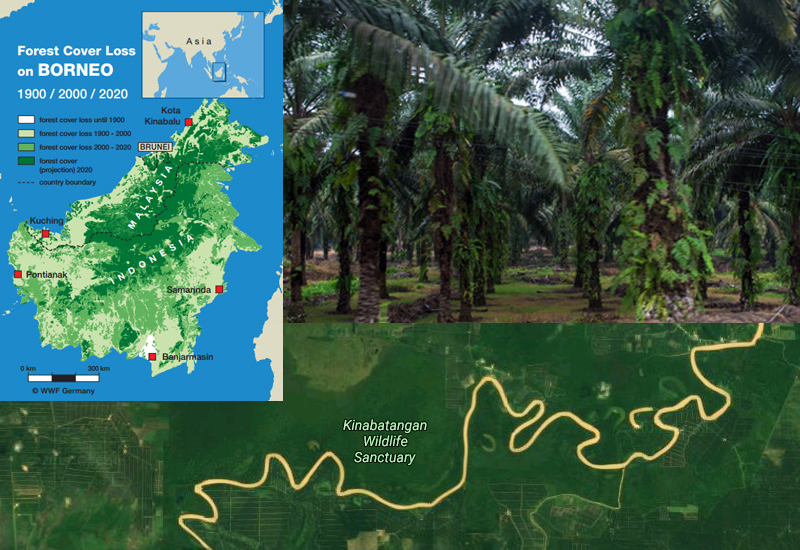 After making some dives in Kota Kinabalu Marine Park, where Pernilla did her Open Water course, we headed south for Brunei and a great cave national park. Closing in on Brunei by ferry we passed another threat to Borneo - several large oil rigs and hundreds of container ships. Our hosts in Kinabatangan, an indigenous family, told us that they are starting to feel the consequences of climate change. During the rainy season it would usually rain non-stop for a month. Now it doesn't rain much at all and the rainforest have started to dry out. The river is also becoming full of bubbles he showed us, probably methane gas from a faster decomposition of biomass because of higher temperatures contributing to even more climate change. It is hard to travel the world without noticing the change in climate and how it is affecting the local villages and citizens.
Finally, it has been really great having Pernilla with us for almost a month! After a long time travelling we have built up a little bit of homesickness after all ;) And so much fun we've had - diving, singing karaoke, playing pool, trying archery, making fire from bamboo, watching anime series, doing underwater photo shoots and a lot more. It is a bit sad to separate again :'( but we are at least happy to leave the horrible pedestrian infrastructure on Borneo (more about that in the next blog). Now we're off to new sailing adventures in Thailand!
Album of Borneo:
Back to country >>
Comments

Why a Honeyyear?
The honeyyear is part of our ambition to live a more sustainable life. We want to explore the world, enjoy the amazing things in life and grow as human beings - all in a sustainable way. Travelling the old silk road by train will be a great adventure to start with! Read more here >>

Design: Johanna Lakso | Updated: 2017-07-30 in Stenungsund