2017-05-09
Travelling through Africa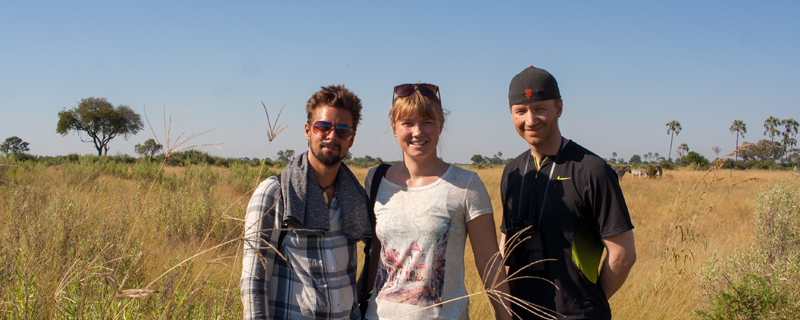 To get on a eight to fourteen hour bus ride or a train ride that lasts for several days are not unusual when travelling in Africa. The continent is big, the nature is stunning and the people friendly. The last couple of weeks we travelled a vast distance to enjoy some of Africa's highlights.
We started in Dar es-Salaam and took the train to Zambia, a three nights and two days ride. The train is old and slow, and Africa is big! But in return we got to see a fair part of the countryside of both Tanzania and Zambia. Africa in general, and especially Tanzania, Zambia and (even more) Botswana has very few people for such big countries. This came as a surprise for Johanna who had imagined Africa being similar to Asia, but in fact the population density in Africa is only half of Europe's. The long trip also gave us plenty of time to talk to our fellow travellers, both african and international. Some were surprised that we had married so old(!), and others told us about the agriculture, business and school situation in their countries.
We arrived in Lusaka, the capital of Zambia and met up with a couchsurfer, a really kind guy named Martin, that immediately gave us his spare key to come and go as we wanted. Since we had about one week until Mikael, Johanna's brother was arriving, we decided to visit one of Africa's biggest and most unexplored national parks. Kafue National Park is the size of Belgium and pure wilderness. We rented a 4x4 safari car, stacked up with food, packed our tent and headed of for a safari on our own. After a half day of driving and several police roadblocks (without being stopped) we arrived to the campsite, next to the Kafue River.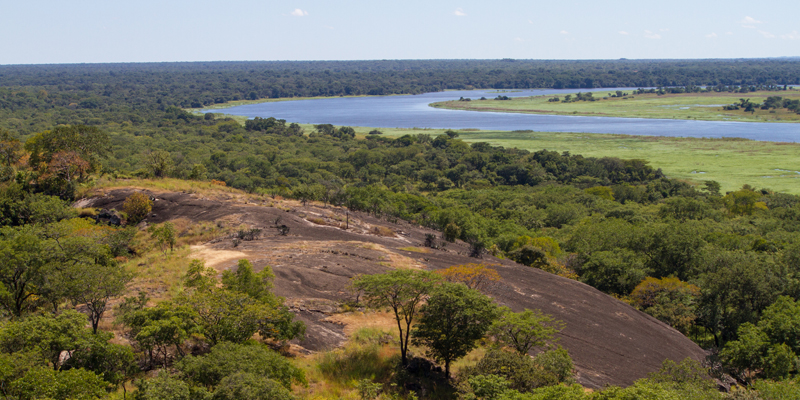 It was a cool experience driving around on our own in the big and wild park. The vegetation in Kafue is huge and dense, se the chance of seeing animals is lower. We saw mostly antelopes and birds, but were lucky to see hippos, crocodiles and elephants. The park have also had big problems with poaching for a long time, making some animals more rare in the area. We made the mistake of driving with the windows open the first day, not knowing that there were a lot of tsetse flies in the area. Big aggressive blood suckers biting like hell and potentially (not here though) spreading the sleeping sickness. Linus spent half an hour jumping around inside the car to kill all of them and accidentally stepped on the bag of bananas smearing it into the backseat, not too good... But all in all Kafue was a good experience, even though it was a little bit scary with the knowledge that if the car breaks down you can choose between waiting patiently until someone finds you or walk among leopards and elephants.
Back in Lusaka we meet up with Mikael and took him straight away to the heart of every african city - the hectic bus station - and on a bus heading for Livingstone. "Heading for" was very literally this time, because even though we had paid a ticket all the way, busses were not allowed to travel after 9 pm in Zambia. Two hours away from Livingstone, the police stopped the bus and made it return to the closest city for the night. The three of us didn't really feel like sleeping on the bus, so we took a taxi the last two hours to our hostel in Livingstone. We stayed a couple of days in Livingstone to visit some of Africa's highlights. Mosi-oa-Tunya, also called the Victoria Falls is if not THE coolest, one of the coolest waterfalls in the world. We spent a day (soaked) watching this natural wonder. We also went on a walking safari to see the white rhinos, that with its approximate 2000 kilos is the biggest rhino. We were very lucky and saw six rhinos at once, one of them only a couple of weeks old!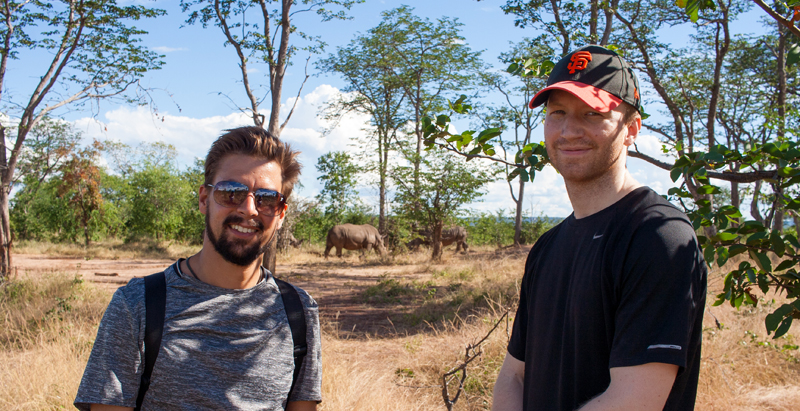 The last and final stop on our eight months trip was the Okavango Delta in north of Botswana. This was one of Linus favourite places from his last trip to Africa and why he was so keen on coming back. Imagine a big river, 475 m3/s (as big as Umeå älven), just disappearing into the Kalahari desert. The delta is full of animals; elephants, giraffes, buffalos, zebras, wildebeest, lions, crocodiles, hippos, leopards... Well pretty much everything. The way to enter the delta is in small canoes called Mokoros, silently gliding through the shallow channels with just the sound of nature and the light splash as the pole is going in and out of the water.
We spent six days camping in the delta, seeing a lot of animals during our walking safaris and hearing them outside the tents in the night. We cooked our food on the open fire, went on walking safaris in dusk and dawn, and took a swim in the delta (if the crocodiles allowed) when the heat was too much to stand. We also changed campsite two times to explore more of the delta. At one occasion we were gliding through a channel when we saw small waves coming upstream from around the corner. Carefully sneaking around the corner hiding in the grass we discovered a big elephant in our path. Since it was way too dangerous to pass, we simply had to wait for him to finish his morning bath and seaweed breakfast before we could continue on :)
The many natural wonders and magnificent animals is why we can't do nothing except loving Africa!
Album of Zambia & Botzwana:
Back to country >>
Comments

Why a Honeyyear?
The honeyyear is part of our ambition to live a more sustainable life. We want to explore the world, enjoy the amazing things in life and grow as human beings - all in a sustainable way. Travelling the old silk road by train will be a great adventure to start with! Read more here >>

Design: Johanna Lakso | Updated: 2017-07-30 in Stenungsund