2016-09-11
Wild beaches in Bulgaria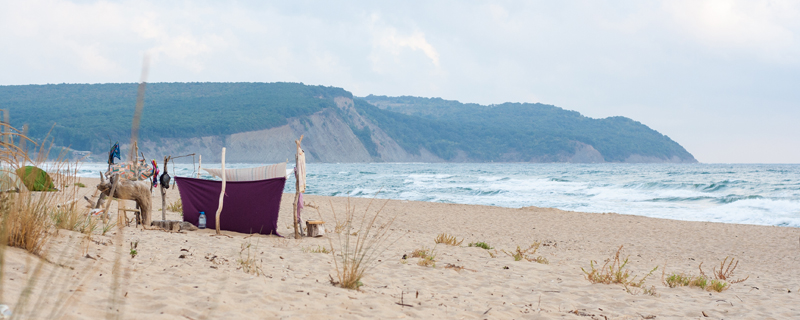 After having travelled almost every day in two weeks it was nice to spend some time in Bulgaria just hanging out and relaxing. Thanks to a good tip we also found a beautiful place next to the Black Sea!
It was a short visit in Romania this time. We spent half a day in Bucharest and saw mainly the country through the window of the train heading to Varna in Bulgaria. Crossing the border between Romania and Bulgaria we went on a bridge over the great river of Donau. Unfortunately Linus got very sick from something, maybe some food, and he was knocked out by the time we arrived in Varna.
Varna is nice for being a city with a lot of the central streets closed for cars, making the pedestrian experience great. Johanna was exploring the city a bit while Linus slept. She was amazed that you could walk from the hostel down to the beach, a 20 minutes walk, without crossing a single road! When Linus got better we walked to the beach together.
Our intention was to head south to a wild beach to camp, but with Linus sick that wasn't possible. We stayed for 4 nights in Varna. Eventually Linus got tired of being sick and started a treatment with antibiotics, which helped straight away. We then took off for Irakli, a natural reserve and a beautiful untouched beach on the coast of the Black Sea. No hotels, only wild camping.
For two nights we stayed at the beach, with the constant sound of the waves breaching upon the beach, quite few but often naked people (since it was a nudist beach) and the bonfire at night. We didn't want to leave the beach, but we were out of water and we had a ferry to catch. We hitchhiked from the beach with an older couple since there were no busses, visited the old town of Nessebar and stayed the last night in Bulgaria at a hostel in Burgas.
Now we are on the ferry crossing the Black Sea. There is another German couple our age who we hang out with, most of the other passengers are truck drivers not speaking much english. Anna and Lukas have been out bicycling for four months already and done an impressive route.
Tomorrow we will wake up in Georgia!
Album of Bulgaria:
Back to country >>
Comments

Why a Honeyyear?
The honeyyear is part of our ambition to live a more sustainable life. We want to explore the world, enjoy the amazing things in life and grow as human beings - all in a sustainable way. Travelling the old silk road by train will be a great adventure to start with! Read more here >>

Design: Johanna Lakso | Updated: 2017-07-30 in Stenungsund